Habitat for Mom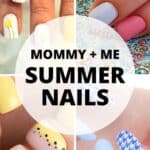 Summer is here and it's time to show off your nails!
Whether you're going to the beach, the park, or a picnic, you can have fun and look fabulous with your mommy and me summer nails.
Here are some tips and ideas on how to create matching nail designs with your little one.
Choose a theme. You can go for a simple color scheme, such as pastels (like these), neons, or metallics, or you can choose a more specific theme, such as flowers, fruits, animals, or stars. You can also mix and match different themes for a more playful look.
Use stickers or decals. If you don't have time or skills to paint intricate designs on your nails, you can use stickers or decals to add some flair. You can find them in any beauty store or online, and they come in various shapes and sizes. Just make sure to apply a top coat over them to seal them in place.
Add some sparkle. Nothing says summer like some sparkle on your nails. You can use glitter polish, rhinestones, sequins (like these on Amazon), or gems to add some shine and glamour to your nails. You can also use nail art pens or brushes to draw some glittery lines or dots on your nails.
Have fun with shapes. You can use nail art tools or household items to create different shapes on your nails. For example, you can use a toothpick to make dots, a bobby pin to make hearts, a straw to make circles, or a tape to make stripes. You can also use scissors or nail clippers to cut your nails into different shapes, such as squares, ovals, or triangles.
Match with your outfits. You can coordinate your nails with your outfits for a more polished look. You can choose colors that complement your clothes, or you can go for contrasting colors for a more striking effect. You can also accessorize your nails with rings, bracelets, or watches that match your outfits.
Pin for later: